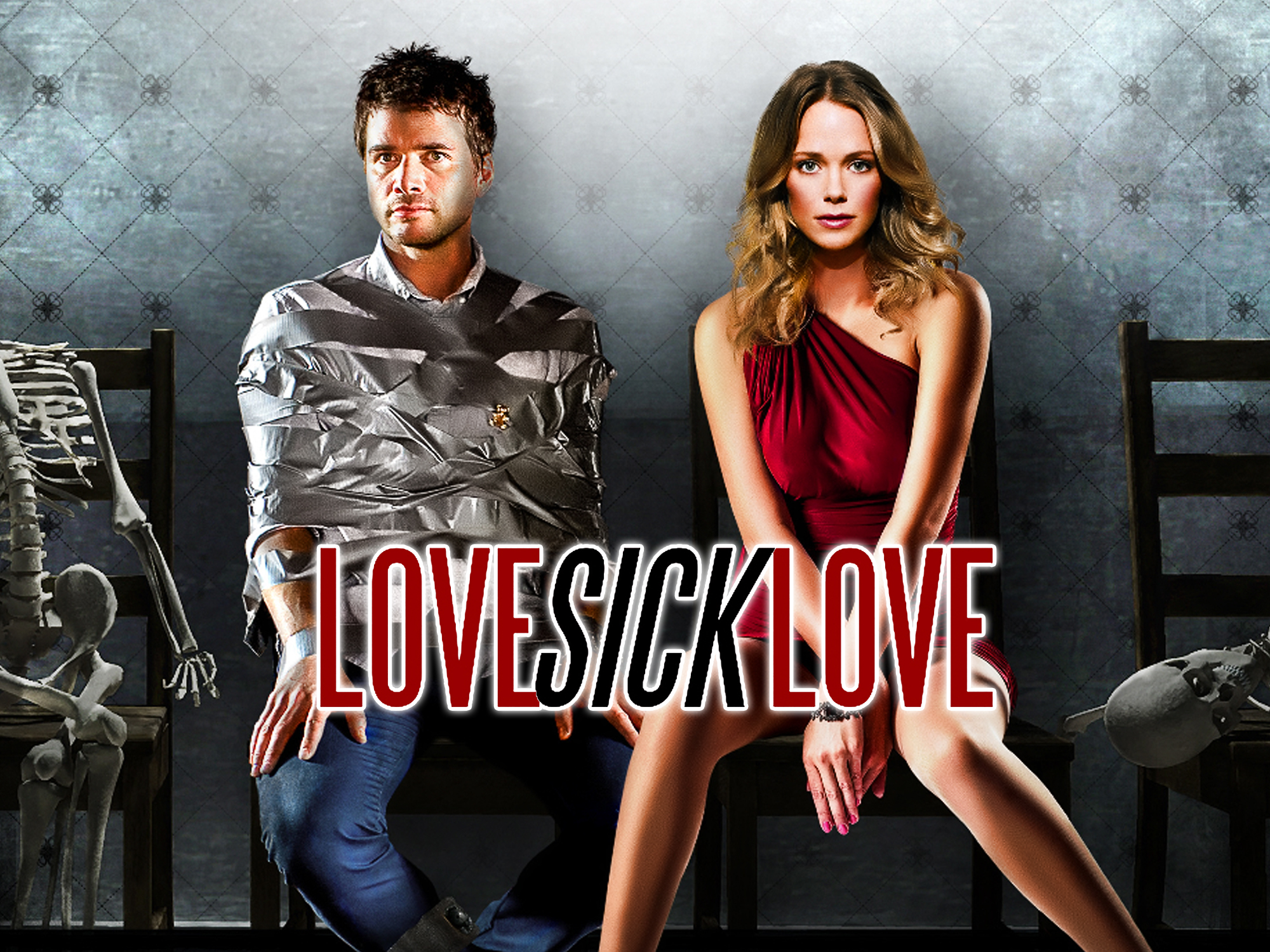 LOVE SICK LOVE
BUY NOW on iTunes
DORI, a twenty-something beauty, recites the importance of her desire for true love. She believes she's met the man of her dreams, NORMAN and wants him to go on a weekend getaway at her family's cabin. As they drive up the highway in NORMAN's Porsche, DORI says men have a difficult time expressing their emotions. DORI says she's read a book, Dr. Fisher's "Twelve Steps to a Happy New Year", which states that you know you've found your mate if you can survive all of the holidays together.
Sociopath DORI doesn't disclose that her two children, 5 year old DOLLY and 9 year old ALBERT, as well as GRANDPA ED and GRANDMA EDNA will also join their romantic weekend. The family takes NORMAN captive forcing him to celebrate all of the holidays to prove he's a good husband and father. NORMAN attempts several escapes. On the last night, they vote if NORMAN will "remain" in their family. DORI holds a gun to NORMAN's head. NORMAN grabs for the gun, a tug-of-war ensues causing a misfire. GRANDMA is shot in the head just as the "New Year" is rung in. NORMAN shoots the lock off his collar. He escapes into the woods and flees up a road where he is struck by a car. DORI gets out of the vehicle and drags his dead body into the car. DORI professes she still believes in love and that maybe she will call in on a local boy she fancies.
DIRECTOR: Christian Charles  (MIRAMAX: Comedian, NEW LINE CINEMA: Full Of It, WEINSTEIN CO.: Cheech & Chong's Hey Watch This, Multi-award winning writer and commercial director).
PRODUCER: Anne Estonilo (WEINSTEIN CO.: Cheech & Chong's Hey Watch This, SONY: Comedians In Cars Getting Coffee, DREAMWORKS ANIMATION: Branded Content and trailers for Bee Movie, MTV: Dirty Life).
WRITER: Ryan Oxford (Go To Hell Mike Piazza, NEW LINE CINEMA: Codename: The Cleaner).
Cast:
DORI – Katia Winter (Sleepy Hollow, Dexter, Knight of Cups, Unmade Beds)
NORMAN – Matthew Settle (Gossip Girl, Band of Brothers)
GRANDPA – M. Emmet Walsh (Blood Simple, Blade Runner, The Jerk, Reds)
GRANDMA – Charlotte Rae (The Facts of Life, You Don't Mess With The Zohan)
ANDREW – Jim Gaffigan (Welcome to New York, Away We Go, It's Kind of A Funny Story)
Title: Love Sick Love
Type: Feature Film
Genre: Thriller
Length: 83 mins.
Writer: Ryan Oxford
Director: Christian Charles
Produced by: Anne Estonilo
Available Territories:
Please contact Brigitte Kingsley for sales and acquisitions at bkc@goodsoldierfilms.com